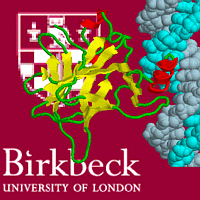 The Principles of Protein Structure Using the Internet
A Birkbeck College (University of London) accredited Advanced Certificate course

The Advanced Certificate in the Principles of Protein Structure using the Internet, is a tutor-assisted, university-level, accredited course. The course exploits modern developments in communications, which means that students from any country may study the course at home, at work or in a university. This course is of one year duration, is of final year undergraduate/postgraduate standard and successful students receive the award of an Advanced Certificate. The course is examined by one written paper taken at a local examination centre and by as assessed project which is mounted on the Web.

Students are welcome to study the course without taking the written examination. Students are eligible for a Certificate of Participation provided they either submit a satisfactory project or pass the written examination.

The only equipment required by the student is a standard PC or workstation and an Internet connection. Students study text, interact with images of molecular models, use databases, participate in tutorials, all using the World Wide Web technology of the Internet

Knowledge of topics which are taught in this Certificate course is an increasing requirement both in academia and in industry and our course provides in-service training, particularly in the pharmaceutical and biotechnology industries.



---
If you are interested in applying to be a student on the PPS course for the next academic year then please read the following information carefully as it provides details about the course syllabus and structure and how to register for the course.
If there are still questions or problems which have not been answered please contact the course administrator.
Back to Course Homepage
Back to Crystallography Homepage
Back to Birkbeck Homepage
---
Last updated 1/11/00